FLIP is a participatory art installation designed to bring communities together by expressing "WHAT FLIPS YOU OFF?
F-U Red Blue
18" x 24"
Giclee, printed on fine art, archival paper
These are times of toxic polarization. The division between the Right and the Left has become so great that we are living in a fractured democracy. F-U Red Blue is a call to activate public consciousness for people to come together, despite our divergent political views, valuing "people over party".
I made stickers and some of the proceeds were donated to the ACLU.
This platform empowers people to express safely. Participants can publicly share their issues, frustrations and concerns without judgement or consequence.
Participants write and draw on copies of an extraction of the original work, F-U-Red Blue, encouraging people to express themselves both creatively and anonymously, and then share their creation.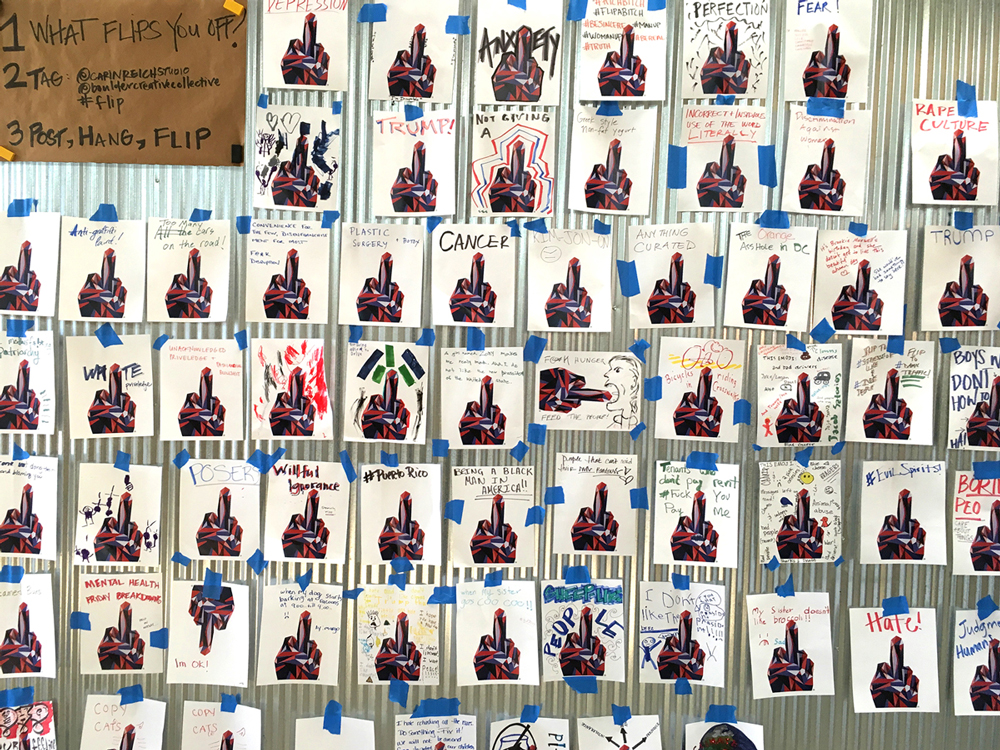 As participants mounted their "F-U" on a wall, it quickly filled with everyone's individual piece, generating a wall of community expression.
Boulder Creative Collective, Fall 2017
Watching the wall fill up, mixed with people's desire to express, I have observed that individual's sharing their feelings with their community leads to healing.
As the show went on for a month, I would post the F-U's on social media. I began receiving requests to come to the gallery to make one.
The Studio Boulder, Boulder Colorado
November 2017 - January 2018
Niza Knoll Gallery, Denver, CO
October 2018 - Jan 2019
Niza Knoll Gallery, Denver, CO
October 2018 - Jan 2019